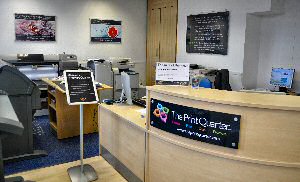 SINCE the 1 December 2011, the long established Pronta Print on Hoghton Street changed it's name of The Print Quarter. The change in name is a reflection of how far the design and print center has come since first opening in Southport over 20 years ago. Our business was established in 1983 in Chorley, Lancashire, we are a family-owned and operated business. In 1990, quite carried away with the fun of it all (!) we purchased a 2nd printing company in Southport, Merseyside and then in 2007, we took over an established print business in Bolton. The group now have an in-house design studio consisting of 2 "creative types" who never cease to amaze with their original and inspiring designs that can make even a Chemical Tanker look interesting. Their imaginative brains are so diverse as to be able to create a beautiful wedding brochure for a stately home, then a personalised postcard mailer promoting interior doors with the lure of a free drill. All totally appropriate for the target audience and all within the budget of the customer. The in-house print production side of the business consists of litho and digital, small and large format machines. We can print anything from a business card to a full blown exhibition stand complete with brochures and giveaway merchandise.
Although we use the latest technology in our business, we are not ashamed to say that we still like good old fashioned customer service. Our aim is to provide quality products at the right price and on time. We do that by listening to what you need and advising you what we think can best work for you. For the next print project, please send an email or phone one of the team who'll be happy to help.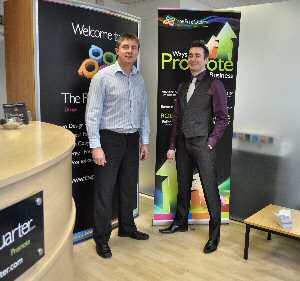 Russell Mclean, Centre Manager:- "As with so many things, the printing industry was a very different place when we first set up as Pronta print over 2 decades ago. As a team, we've always moved with the times and this change in name is a reflection of us doing just that. We feel that our new name of "The Print Quarter" better represents the full spectrum of services we offer...many of which people may not know that we even do. However, along with this new direction for us it was equally important to let people know that we are still based in the same building and operating with the same team of dedicated, hard working staff. We're strong believers in "people buying from people" so it was crucial that our clients had the reassurance that they could still work alongside the same team they have become accustomed to."
The change in name also offers some positive changes for the company, Russell continues:- "We're now a completely independent company as The Print Quarter and we feel that we're able to provide a service for businesses of all sizes. From individual business cards for consultants working on their own to full exhibitions for national companies, we can do it all. However, perhaps the biggest change for us is that we also have a brand new website being developed which will enable us to build up a bigger web presence than we've ever had in the past...it's something which we feel will really compliment what we can offer."
To find out more about The Print Quarter, you can visit their website.